Fix Your Portions. Fix Your Life.
I remember being told that it looked like I had Polycystic Ovarian Syndrome (PCOS) when I was pregnant with my first. I was told my ovaries looked "like cottage cheese" because they were filled with so many 'cysts.' Now I knew a bit about the disease process from going through my schooling to get my nursing degree. I knew that infertility among other disease processing were increased with this diagnosis. But, come on, I was told that I probably had this when I was pregnant so that whole infertility this obviously didn't apply to me! Well I was wrong…
Ok, now why on earth would I open a page about a nutrition program with a story about my battle with infertility?! Stick with me, there is a BIG point.
After realizing that I wasn't special and secondary infertility (infertility that is cause by something, in this case, PCOS) would play a part in how my husband and I would end up being blessed with our babes I sought out to learn as much as I could about this disease process and how I could treat it in the most natural way possible. My doctor wanted me on birth control which I had tried and to put it delicately, I was a raging bitch on it. (Ok, that was delicate but it is the truth!) I refused to take a medication that made me feel like I was going to explode at everything my husband did…he didn't fold a towel the way it was suppose to be folded, well then a screaming tongue lashing was definitely deserved!! Good gracious, that poor man.
Anyways, I dived in and read anything I could-research articles, blogs, my Women's Health book from college got busted out, I even went to listen to an Obstetrician, who specialized with people with PCOS and Endometriosis, speak about what she saw as well planned treatments for the diseases and what was working (I actually made an appointment to travel hours away to see her after three rounds of 'fertility medication' failed). What everything seemed to come back to was NUTRITION and how much fat we tend to carry. Fat can cause actually cause fluctuations in our hormones. It wasn't what I was expecting. But everything seemed to say, "get processed foods out of your diet!" So I did. I learned how to read a label and stuck to whole foods as best as I could. I dropped 5 lbs. within a few weeks and we were pregnant that following month. I then canceled that previously mentioned appointment with the specialist.
So, I think it is fair to say I knew what clean eating looked like! So why when we fast forward to after having my third baby could I not shake the lingering pounds with just eating clean?!
Long story short, I was not eating in proportion to what I needed, nor was I eating a BALANCE diet!!
Insert the containers!
In the midst of postpartum depression and frustration (ok, let's be honest, disgust describes how I felt much better!) with my body I was introduced to the 21 Day Fix fitness program (30 minute workouts) and the cute, little, color coded Portion Fix container system. It changed the way I looked at nutrition!
I found out quickly that I wasn't eating the right amount of food. In fact, I found I wasn't eating enough! I had successfully slowed down my metabolism because, well, I was a mom of 3 who would sometimes realize at 2 pm when I finally got by two youngest down for a nap that I hadn't even taken a sip of water since my feet hit the floor running. And even though I knew what clean eating looked like, the benefits it had on our health, and most of the time I was reaching for the unprocessed food, I would engorge on a big meal that often wasn't balanced (ex-three bananas with some natural peanut butter or just chicken breast). I had no idea what Macronutrients were or why they would need to be balanced.
Macronutrients are nutritional components of the diet that are required in relatively large amounts. They consist of proteins, carbohydrates, and fats.
ALL of these macros are needed in order for humans to be healthy and when you balance them in the right proportions you can turn your body into a body fat (not to be confused with food sourced fats) burning machine to get you to your nature body type and size!
The system works!
Long story short, in two months I was down just under 20 lbs and my kids had gotten their happy, energetic mommy back! My husband got his confident wife back! It felt so good to not feel like I was lost anymore and proud of myself. And it has worked for so many others too!!
If you want clear guidelines on what to eat, how much and why, this is your program.
Ultimate Portion Fix (UPF) is the expansion of one of the original and most successful weight-loss programs known throughout the fitness world, 21 Day Fix. Because of the success I have had in the past with the system and so many of my virtual bootcamp babes I was beyond excited with the chance to become a Certified Master Coach with the revamped educational program.
I was hooked knowing that this nutrition specific program would guarantee success for myself and clients in understanding:
meal planning

portion sizes

cutting out processed foods

dealing with your sugar addictions

how to stay on track when you are traveling or busy

getting your whole family on board with clean eating

and more!
Meet My Partner in Crime…
Say hello to Autumn Calabrese! As a Beachbody Super Trainer, Autumn has helped thousands of people lose weight and get fit with her breakthrough fitness programs 80 Day Obsession®, 21 Day Fix, 21 Day Fix EXTREME, and more. Five years ago, Autumn introduced the color-coded portion-control containers, which later led to the creation of FIXATE, her best-selling cookbook. She hosts the FIXATE cooking show with her brother, chef Bobby Calabrese, on Beachbody On Demand. Autumn is a certified holistic health coach through the Institute of Integrative Nutrition and has held certifications from the National Academy of Sports Medicine (NASM), as well as the American Fitness Professionals & Associates (AFPA).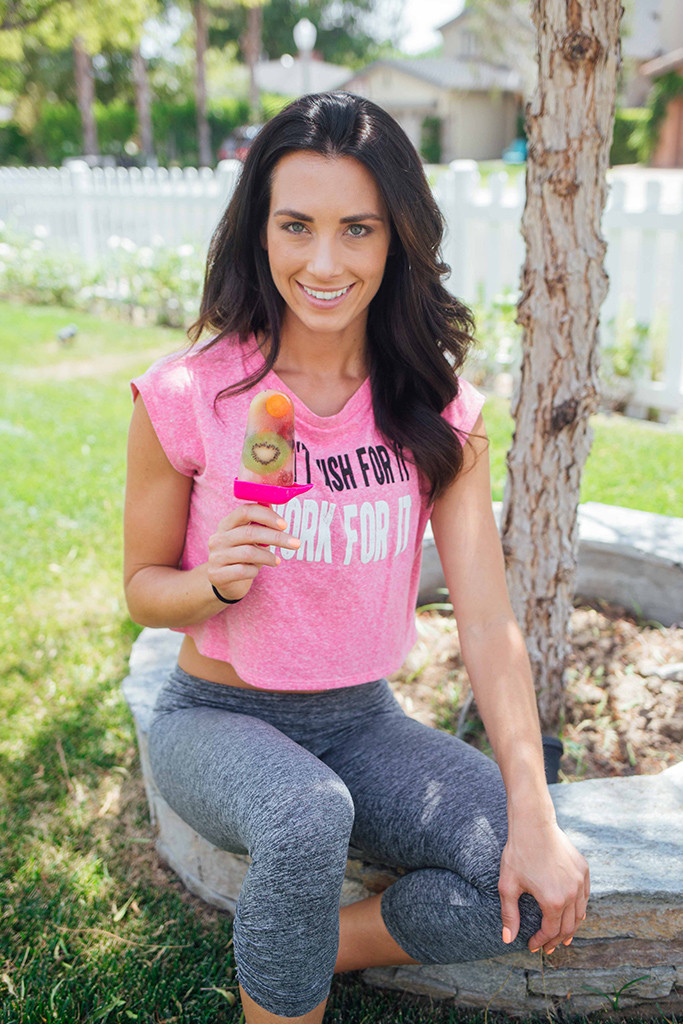 Meet Autumn, she's an amazing teacher!
Check out the video above to learn more about Autumn, how this container system came to be and how it can benefit you! With the original Portion Fix that came out when 21 Day Fix first debuted it was very "monkey see monkey do" instead of embracing empowerment of helping people really understand that food is fuel and how to use it to your benefit.
So many of my clients have:
flexed their fitness muscle consistently and get frustrated when the results they expected aren't there

can't seem to break free from sugar addiction, or they will during the week only to go back to old habits over the weekend

will lose and gain those same 5-10 lbs over and over again

get overwhelmed with all the fad diets out there and pick and choose bits and pieces ultimately not sure what is working and what isn't

will over eat on healthy foods because they don't know their portions and then not understand why they aren't seeing results

don't understand why having a balanced diet is so important!
The Ultimate Portion Fix can help you overcome all of these obstacles!!
How does the program work?
This program is designed to give you clear guidelines on how to fuel your body and look at food as fuel versus comfort. This will help get you faster results but full educate you on how to apply this program to your daily life to make it a lifestyle! There is no hidden magic…just simply showing the power of balance and proportions tailored to YOU!
There are 30+ step-by-step videos broken into 7 modules to show you how to use the containers, how to plan, prep, and make healthy meals, plus help you get to the core of your food and eating decisions.

Your Workbook is a companion to the videos which lets you take notes as you watch and complete additional written exercises to better guide you.

A Daily Logbook is included as a 30-day guide and is where you'll track what you eat, how you feel, and what's going on with your body.

7 Color-Coded Portion Containers, obviously are included, to help take the guess work about how much you should eat out. You'll fill up the containers with your choice of food from the recommended food list—if it fits, you can eat it!

102 delicious, brand-new recipes that work with your containers are awaiting you in the FIXATE Vol. 2 Cookbook.

FIXATE Cooking Show, with over 200 easy-to-follow video demonstrations of delicious portion-controlled recipes—brought to you by Autumn and her professional chef brother.

75 Healthy Lunch Ideas For Kids is also included via a digital PDF is a quick and easy resource for parents who want to give their kids healthy meals they'll love to eat. Which will go right along with the educational videos on how to get the WHOLE FAMILY on board!

Stay on top of your daily container use, your portions, and Shakeology, plus access program content and more via the Beachbody Nutrition+ app.

And as a FREE BONUS! With this program you will be getting access to the 21 Day Fix & 21 Day Fix EXTREME new workouts Autumn reshot in REAL TIME, for faster progress and with more emphasis on how fitness and Ultimate Portion Fix nutrition can be a powerful combo. The fact that all the workouts are individually recorded makes you feel like your are right there with the cast. Beachbody on Demand is not required to access these 2 fitness programs.
UPF Kit & Mentorship Options
Everyone is a unique person so I fully understand that there isn't a one size fits all when it comes to learning and guidance! Some people are visual learners, some need to be walked through and hear it verbalized, some need to be able to repeat back what they believe they learned and ask questions right away. Which is why you have some options to choose from when it comes to YOUR Ultimate Portion Fix Experience!
First, Pick an Ultimate Portion Fix Kit…
Next, Pick Your Mentorship Package…
These mentorships are the BEST accessory to the UPF program. The extra layer of accountability and support has been a game changer for so many of my clients. PLUS, I LOVE that I get to know my mentees that much more!! And because there are limited spots these babies are in a hot commodity!! So after you have made your choices apply below!
TIPS FOR PICKING YOUR KIT + YOUR MENTORSHIP
Whoa, you made this far…are you feeling overwhelmed? I know, it seems like there is just so much and so many options!! So let's break it down! Most of us (myself included) check out the prices and go for the lowest because…well, it is hard to invest in ourselves!! So here are a few key questions to help you decide the route to go—
Are you one that likes to figure it all out on your own or do you like to have some guidance? I totally get independent "I got this" mentalities, so if you feel confident in working through this on your own stick with the FREE mentorship and know you can always upgrade if you need to. But if you want to have someone who has been through and continuing to work on themselves with this program to help guide you through any bumps you may have consider doing Pack 2 or 3 for at least your first month of changing the way you nourish your body with UPF.

Do you feel like you need to like you have tried so many things in the past and you stick with it or a few days or maybe even a full week, and then life comes up and whatever habit you were trying to build falls off your plate of priorities? If so, then I would suggest going with a mentorship that involves weekly progress/tracker analysis and feedback! The weekly knowledge of needing to own this program because someone is going to go over your work with you (providing positive feedback of course!!) to help you allow the way may be just what the doc ordered to help you stick with it.

When it comes to your digestion, do you feel like you are regular? I know personal question! The nurse in me has a hard time differentiating between personal and health history questions (btw-that really is a health history question and a REALLY IMPORTANT one too!). Also, when you become a mom it is amazing how obsessed you because with a little persons bowel movements. Right?! But I digress. If you are not I would suggest going with a UPF Kit that incorporates Shakeology. Being someone who was chronically constipated since infancy I can even begin to tell you how amazing it was to be able to drink this silly shake each day and turn my gut around! I can say that now I am actually regular! And that is a BIG deal!

Do you get random bouts of bloating or your body toggles back and forth between hard and loose stools? (Yep, I know—again with the personal stuff!) Again, I would suggest a Kit that incorporates Shakeology. This isn't your run of the mill shake. I was hugely skeptical of it until I learned that it truly is a premium product! It isn't just a protein shake that has one dimension. Nope, Shakeology is a recipe for good gut health. In addition to being a good source of protein it also contains digestive enzymes, pre & probiotics, fiber, antioxidants, phytonutrients, vitamins, minerals, and adaptogens—traditionally used to help the body adapt and respond to the effects of stress. This is a multidimensional meal to help jump start good gut health for you! And when you gut is in check, you will have fewer cravings and more energy!

Want to incorporate fitness into your lifestyle while you a building a healthy relationship with food? I would suggest going with the Kit that had Beachbody on Demand (BOD). I use BOD daily! I love that there are always new programs being added so there is no workout boredom happening at my house! I enjoy that I can do the workouts wherever I choose from my living room to a campsite. Plus, there is something from EVERYONE. From yoga to weight training to cardio and dance to workouts designed to do with your kids for some family fun. It is all there! And as an added bonus-it is way cheaper than any gym membership that I have seen! And if you are ready to take on a fitness program adding in the Performance Line Supplements—Energize and Recover make a world of difference in getting an awesome workout in and preventing muscle soreness!